In the latest NFL news, we are taking a look at contract renewals as Aaron Jones takes a pay cut and will stay with the Green Bay Packers. Jones and the Packers have agreed to a $11 million salary for 2023. This includes an $8.52 million signing bonus for the 28-year-old running back. Those who use a bookie software solution for their online sportsbooks will be keeping an eye out for contract renewals and transfers, but Jones will be staying put.
But the salary, as generous as it seems, is actually less than the original $16 million that he was supposed to get. Initially, the $16 million salary is the highest salary cap that any running back would get in 2023. However, he will be taking a pay cut for the new agreement, which gives him two years left in the contract.
Aaron Jones Takes a Pay Cut, Will Still Get a Good Paycheck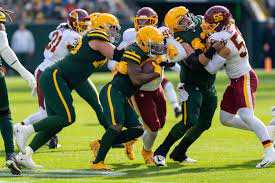 The pay cut reduces Jones' salary by around $5 million. But he is still one of the top earners in the league, especially for a running back. If you look at his contract, he would be earning $31 million from 2021 to 2023. This is the second highest salary for a running back. The top slot goes to Christian McCaffrey from the San Francisco 49ers. When learning from sports betting tutorials, it helps to know who the biggest-paid stars are as these players are crucial to the success or failures of each team throughout the season.
Jones started his career with the Packers back in 2017, so its understandable why the star would want to stay with the team. He was drafted in the fifth round as 182 overall pick. Back in 2022, Jones has a new career high record of 1,121 yards, two rushing touchdowns, as well as five receiving touchdowns on the ground. In addition, he has 395 receiving yards and 17 touchdowns in the air. If you want to earn money on Jones' and the rest of the Packers next season, here is a guide on how to be a bookie in 5 steps.
Get the Best Sports Betting Software with Bwager.com Here!