NBA overall No. 1 Draft Pick Victor Wembanyama has previously said that he wants to play in the 2024 Paris Olympics for his home country. And he recently reiterated his commitment to do so when he was speaking to French media. As early as now, sports news coverage of the Olympics is starting to feature teams or athletes that have confirmed their commitments to their respective home countries.
The French National team gets an automatic bid in the 2024 Olympics as the host country. And their men's basketball team are fortunate for that, given their less-than-stellar performance back in the FIBA World Cup in August. France finished 18th in the tournament, bowing out in the first round of the group play, with 1-3 in their three games. Wembanyama did not join the team in the World Cup to focus on preparing for the upcoming NBA season.
Victor Wembanyama to Play for France in 2024 Paris Olympics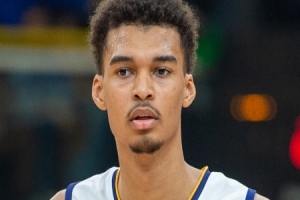 Wembanyama, of course, watched the FIBA World Cup. Everybody in the basketball world did. Even bookies who use a Pay Per Head Sportsbook to offer basketball betting, were watching the tournament in Southeast Asia last month. It is, after all, one of the most prestigious events in international basketball. The event also adds points for those who want to compete in Paris next year. It also gives us insight on the teams and their performance and what to expect in the Olympics.
Wembanyama was naturally disappointed in the result, but holds no judgement. Instead, he is looking forward to the opportunity to be in Paris and compete. The French roster can add a lot of familiar names to NBA fans. Aside from Wembanyama, three-time Defensive Player of the Year Rudy Gobert can also join the team. Other French NBA players like Nicolas Batum and Evan Fournier could also help make France a team to watch out for in Paris. If Joel Embiid decides to play for France instead of the US, then the team will be even more formidable. Let us not forget that the French National Men's Basketball Team won a silver medal back in the 2020 Olympics, only second to Team USA.
Olympics betting can get very busy, especially with hundreds of events unfolding over a short period of time. The Olympics also happen in addition to the regular sports calendar, so bookies will find it challenging to manage their sportsbooks. Using this bookie pay per head service will help you be able to monitor the activities in your busy sportsbook, and give you the tools to manage the odds, monitor your players, and more.
Get a Free Trial of the Best Sportsbook Software for Bookies with Bwager.com Here!

Bwager.com Pay Per Head Blog
Average rating:
0 reviews