In the latest sports news, we are taking a look at the results from the voting for the 2023 MLB All Star Roster. The full rosters are still not available, but the results of fan voting gives us a lot to talk about already. After the voting, we now know the starters for the American League and National League for the Midsummer Classic.
Phase 1 of the vote gives us two finalists at each position, plus guaranteed spots to the leading vote-getter for each league. You have outfielder Ronald Acuña Jr. in the NL and DH Shohei Ohtani in the AL.
Following the voting of Phase 1, the slates are again wiped clean. And now, fans get to choose between two finalists at each position. If you are keeping track of voting for starters in sports betting news features for baseball, remember than fans do not vote for starting pitchers. The choices will come from the two managers, Dusty Baker of the Astros, and Rob Thomson of the Phillies. The roster selection is a result of the combination of both fan and player voting, and the commissioner's office will assist as needed.
2023 MLB All Star Roster Update
Given the results, we now have the Texas Rangers have a lot of votes with four starters. For the NL, you have both the Atlanta Braces and the Los Angeles Dodgers with three votes each. You have some familiar names in the results. Like Angels' Mike Trout being the 14th player in MLB history to get voted 10 or more times.
In case you want to check your sportsbook pay per head software's betting lines, the list of the selected members are here.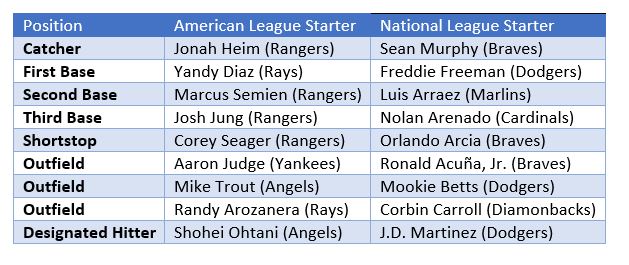 Baseball fans, bettors, and bookies will need to check in for more updates on the All Star. The announcement of the full rosters will be on July 2, Sunday. Meanwhile, the game will be on July 11, Tuesday. It will be held at the T-Mobile Park in Seattle.
Get the Best Bookie Software at Bwager.com Here!