Your pay per head sportsbook offers volleyball betting lines, and these can be very lucrative. And we are now fast approaching the quarterfinals of the European Volleyball Championship. The latest nations to progress to the next round of the tournament are Slovenia and Italy.
Slovenia faced Turkey in a nail-biting match. Initially, fans were looking at Slovenia to go home, having a 0-2 deficit. However, they managed to turn things around and win 3-2. Slovenia's first set was 25-20 and 25-22, so they really had to do better in the succeeding sets. They won the next ones 25-21, 25-23, and 15-13, which brings them to their fifth straight presence at the quarterfinals.
European Volleyball Championship Quarterfinals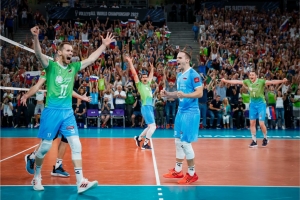 Italy had a much easier time, beating North Macedonia in a 3-0 sweep. They won 25-20, 25-12, and 25-15. Daniele Lavia scored 16 points, and Michieletto and Romano scored 12 points each for Italy. North Macedonia's highest scorer was Ljaftov with 10 points.
Those who bet on online sportsbooks will have their hands full as we continue with the Round of 16, and as we continue on to the semifinals, then the Finals of the EVC. The results of the matches over the weekend will determine the bracket for the quarterfinals.
Slovenia will have to wait for the match of Ukraine and Portugal to know which of the two they will be facing. Meanwhile, Italy will be playing their quarterfinal match on Tuesday, with whoever wins between Netherlands and Germany. If you want to earn money from these matches, do more than just bet on them, and go sign up with bookie software and own an online sportsbook. Since you will be managing the sportsbook yourself, you can earn from every single wager placed in your sportsbook, as opposed to just winning on the few wagers that you will make for each match in the tournament.
Get the Best Bookie Software for Bookies with Bwager.com Here!

Bwager.com Pay Per Head Blog
Average rating:
0 reviews