In the latest sports news, we are taking a look at Canada's Men's National Volleyball team as they earn a spot at the upcoming Paris Olympics next year. This is made possible by their win over Mexico in the Men's Olympic Qualifying Tournament in Xi'an, China.
If you manage your own bookie business with a pay per head sportsbook software, then you need to keep track of world rankings and see which countries will be heading over to France for the 2024 Olympics. It will be the biggest sporting event of the year, and it would not be unsurprising to see betting activity on the tournament as early as now.
The Rank 12 Canada beat Rank 34 Mexico 3-0 with scores of 25-20, 25-21, and 25-15 in their last game. This win puts Canada at the second place in the eight-team Pool C, with a record of 5-2.
Canada's Men's National Volleyball Team Continues to Win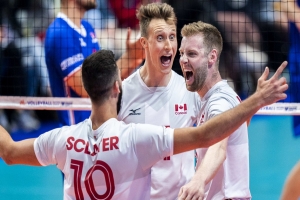 The team now qualifies for what will be their third straight Olympic Tournament ticket, after joining Rio 2016 and Tokyo 2020. If you think that the Canadian volleyball team can make it to the medal stage of the Olympics, then here are some sportsbook recommendations on where to bet on volleyball. While the roster this year is quite different from previous Olympic tournaments, their players are up to the challenge of fighting for the gold.
Canada, in their last two stints at the Olympics, lost on the quarterfinals in both tournaments. The closest they have ever been to the top spot was back in 1984, losing in the Bronze medal game. Should they win this year, it will be the best the men's national volleyball team performance in an Olympic tournament. But to do that, they will have to beat quite a few formidable teams. So far, the US and Japan in Pool B, plus Germany and Brazil in Pool A are still in the running as well.
Get the Best Sports Betting Software at Bwager.com Here!

Bwager.com Pay Per Head Blog
Average rating:
0 reviews